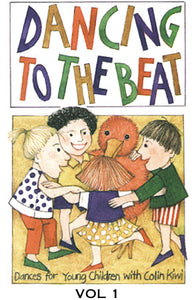 Dancing to the Beat - Vol 1
Regular price $11.00 Sale
Our first Audio Cassette dedicated to getting children dancing and singing action songs. A hit from day one. Ideas sheet included.
Music Samples from this CD….
1
Moving to the Beat
11
Clap Your Hands All Together
2
Round and 'Round the Village
12
Santa Maloney
3
Mexican Hat Dance
13
Bird Dance
4
Wigglerly Woo
14
Here We Go 'Round the Mulberry Bush
5
Rockabye Your Bear
15
My Pigeon House
6
Jibidi
16
This is what I can do
7
Highway Number One
17
Dingle Dangle Scarecrow
8
Riding on a Train
18
Who's in the Middle?
9
Happiness Song
19
Gorilla Dance
10
Boanopstekker
åÊ
Click on the note to play the song.