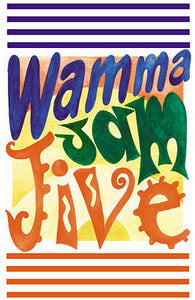 Wamma Jam Jive
Regular price $11.00 Sale
Wamma Jam Jive is a compilation of songs that encourage physical skills appropriate for children aged 3 to 6 years, in students aged 7 years +. The songs target skills such as throwing and catching, body awareness, directionality, rhythm, colour and movement.
There are instructions that give ideas for parents and teachers and some songs have adaptations for students in wheel chairs. Lively melodies with a good beat have been selected as well as some quieter songs for slow movements.
Music Samples from this CD….
| | | | |
| --- | --- | --- | --- |
| 1 | ABC | 14 | Hammer in the Nails |
| 2 | Albert Ross | 15 | Happy as Larry |
| 3 | Bean Bag Alphabet Rag | 16 | Happy Sticks |
| 4 | Bean Bag Rock | 17 | I'd Like To Teach the World To Sing |
| 5 | Big Red Car | 18 | Keep the Beat Alive |
| 6 | Body Bumps | 19 | Let's All Clap Our Hands Together |
| 7 | Body Parts | 20 | Music Music Music |
| 8 | Can You Shake | 21 | Pass the Bean Bag |
| 9 | Day and Night | 22 | Person to Person |
| 10 | Different Directions | 23 | Put a Little Colour on You |
| 11 | Feet | 24 | Seals Swim |
| 12 | Follow Me | 25 | The Old MacMassage |
| 13 | Go For a Walk | 26 | Turn Around Game |