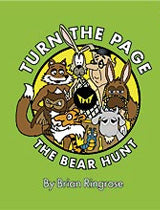 Turn the Page - The Bear Hunt
Regular price $10.00 Sale
A fun, colourful, clear, nonsense story.
An interesting, fun book, that comes with a 12 track downloadable CD to listen to and do movement activities with. There is the story song and a song about each of the characters.
This is an educational, purpose built book to encourage young children to move, which in turn will stimulate their brain, which in turn will enhance their ability to learn.
Comes complete with Adult pages including movement ideas for all the songs.
All proceeds from the book sales will be donated to Brian's favourite charities in his memory.
The songs are able to be downloaded here for free...
| | | | |
| --- | --- | --- | --- |
| 1 | Turn the Page | 7 | Caterpillar |
| 2 | The Bear Hunt | 8 | Train |
| 3 | Fox Slink along | 9 | Tiger - A Very Cleaver Cat |
| 4 | Rabbits Hop | 10 | Giant |
| 5 | Goat | 11 | Owl |
| 6 | Donkey | 12 | Book Dance |